2021 AMPAC Award for Political Participation
Awarded every two-years, the AMPAC Award for Political Participation recognizes an AMA or AMA Alliance member for their outstanding work through volunteer activities in a political campaign or significant health care related election issue such as a ballot initiative or referendum.
2021 WINNER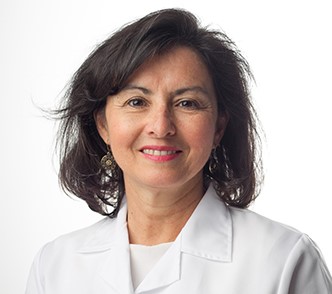 Theresa Rohr-Kirchgraber, MD, FACP, FAMWA
Indiana 
The winner of this year's AMPAC Award for Political Participation, is Dr. Theresa Rohr-Kirchgraber, MD, FACP, FAMWA.  Dr. Rohr-Kirchgraber was nominated by her peers at the Indiana State Medical Association (IMSA) and the Indiana Medical Association PAC (IMPAC) for having demonstrated standout contributions through her efforts in political campaigns, fundraising, state and federal PAC education, and garnering support for healthcare related issues during the 2020 election cycle.
A committed activist on behalf of physicians across Indiana, Dr. Rohr-Kirchgraber played an important role in raising awareness of the impact on women's health issues and health policy on the state and national level – including the high infant and maternal mortality rates in Indiana. Dr. Rohr-Kirchgraber worked with the POWER Caucus of Indiana, a bipartisan group of women legislators, and created a program to help them better understand the health needs of women in the state. Together they advocated by writing letters to the editor of local newspapers, writing advocacy articles for the Women in Medicine blog of IUSM, going to the state house and working with other health care organizations around the state.   
Recognizing that having physicians as elected officials would significantly increase the understanding of health needs in Indiana, Dr. Rohr-Kirchgraber held fundraisers for state and local medicine-friendly candidates, hosted candidate meet-and-greets for her neighbors, colleagues, and friends to introduce them to local leaders who were supportive of improving health outcomes and donated to the campaigns of health care champions in the state.
Due to the ongoing COVID-19 crisis, Dr. Rohr-Kirchgraber realized that even more needed to be done. Because in-person events were no longer a possibility she worked tirelessly to organize several virtual fundraisers as a way for constituents and supporters to interact with the candidates. She also spent most days making phone calls for candidates, both local and physicians running for office in other states and created a letter and post card writing campaigns urging voters across the country to vote in the 2020 elections. 
Dr. Rohr-Kirchgraber did not stop there, she also worked with the American Medical Women's Association (AMWA) to create a voting campaign to encourage younger members to get involved in the political process by working the polls and to encourage early voting. She also worked with the League of Women Voters, VOT-er and Vote 2020 to create a series of webinars that espoused the need for active participation in the electoral process.
Lastly, building on the relationships she developed while advocating at the state house, Dr. Rohr-Kirchgraber became a trusted voice on health care issues for former state Representative Christina Hale who was running for the fifth Congressional district. She hosted multiple virtual fundraising events allowing Rep. Hale to connect with women physicians and other health care leaders in the district.
The extensive time Dr. Rohr-Kirchgraber committed to all these political activities and her steadfast dedication to effectively supporting pro-physician candidates across Indiana and the country makes her a worthy recipient of the 2021 AMPAC Award for Political Participation. For her incredible work, Dr. Rohr-Kirchgraber was recognized at the AMPAC Capitol Club event during the AMA's 2021 Special Meeting of the House of Delegates.